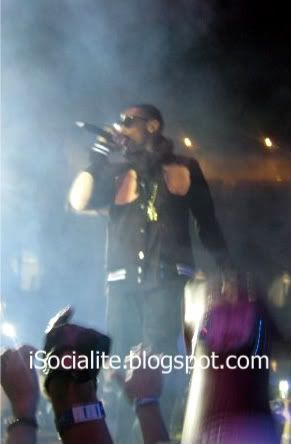 This show was easily the

biggest

concert to ever come to Harrisburg, Pennsylvania. Once the doors opened up at 6:30 P.M., it was a mad rush to get inside and escape the bitter cold. Hundreds of fans were jam-packed in the lobby of the Farm Show Complex and Expo Center with twice that many standing outside, waiting until there was room to get inside the building. It took quite some time (and a bit of organization), but soon fans began to fill up the venue. The concert began roughly at 7:30 P.M. with far too many opening acts to name. The final opening act, at 10:45 P.M., did not sit well with the fans. The moment the announcer introduced the performer who was obviously not Trey Songz or Fabolous, the crowd immediately began to chant "We want Trey!"
Finally at 11:00 P.M., the announcer
said to the now restless crowd, "Who's ready to see Fabolous?" On that note, Fabolous' DJ approached the turntables and hyped up the crowd by playing several "club-hit" songs including

BedRock

by Young Money. Once the rapper hit the stage, cheers and screams filled the venue. Fabolous performed numerous songs from his new album Loso's Way as well as some of his older hits including the smash Breath and Superwoman, which features Lil' Mo. He also performed a few songs on which he wasn't the sole artist. Among these included his verse on a remix to Swag Surfin', originally recorded by F.L.Y. and the remix to Rockin' that Thang by the-Dream. Loso, as many fans know him as, kept the crowd highly entertained for forty-five minutes. Fabolous has an exciting way of interacting with the audience during his performances. He ended his show with his single

Throw it in the Bag

followed by the remix that includes rapper Drake, declaring to his DJ that "Some things need to be done twice." The crowd cheered as Fabolous walked off stage with his trademark, smooth mannerism.

After a moderately short period of intermission, the announcer came on stage and told the crowd, "If you're ready to see Trey Songz, scream!" The stadium immediately began to ring with what seemed like uncontrollable screams f
rom the female persuasion. Trey Songz walked onto the stage, flashing that million dollar smile, and knowingly melting the hearts of his female fan
s. He opened up the show with his single Can't Help But Wait off the album Trey Day. Trey Songz is definitely a crowd pleaser. While performing some of his old and new hits, including

Missing You

and

Neighbors Know My Name

, he proceeded to walk around the stage, touching the hands (and hearts) of his screaming fans and of course flashing that beautiful smile of his. Trey Songz puts on heart-stopping show along with clever song segues. At one point during his show, he did the classic "Which side is the loudest" routine and there were two sides that Trey Songz and his DJ were having trouble deciding between. Trey then turned and looked at his DJ and said "I know how we can settle this," he turned in looked to the audience and said "Everyone

Say Ahh

!"- Wittily making a reference to his newest single that featured none other than Fabolous. Once Fabolous' part came up, it might have come as a surprise to quite a large portion of the crowd as the venue began to fill with cheers for him while he walked on stage. As they commanded the stage together, Trey Songz and Fabolous seemed like the ultimate duo. The last song that Trey performed was "

I Gotta Go

," complete with him taking off his shirt. The "scream level" of the venue was never that loud until that very moment. While singing, he began swinging his shirt in the air as if he were going to throw it which made the fans go even crazier. Towards the end of his performance he threw it into the crowd (I'm sure there was a near death battle for it). Trey ended his show on the best possible note; with the fans wanting more. Trey Songz and Fabolous both gave central Pennsylvania something to talk about for many months to come.
Concert Review by:

Jasmine Whaley
iSocialiteMedia@gmail.com