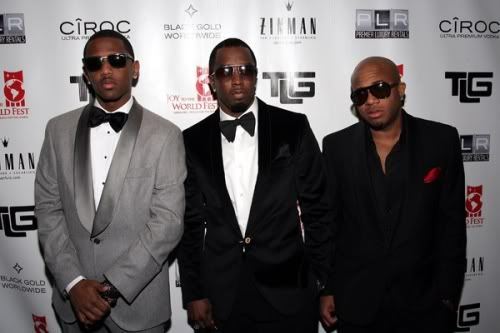 TLG's Joy to the World Fest Brings the Stars to Downtown Philly
By: Jasmine Whaley for iSocialite.blogspot.com
Philadelphia- Diddy, Jermaine Dupri, Jamie Foxx, Vivica A. Fox and Fabolous are just a few of the celebrities that came out to support TLG's

Joy to the World Fest

events last week (17th-19th).
Joy the World Fest

is the brainchild of Tyrone L. GIlliams, Jr., a University of Pennsylvania graduate and head of T.L. Gilliams, LLC, a Pennsylvania-based private commodities trading firm with global holdings. The events were designed to raise money, collect toys, provide meals and services as well as draw awareness to three critical crises- hunger, homelessness, and youth development.
On the 17th, a celebrity bowl-a-thon was held at North Bowl Lanes in Downtown Philly. The event was hosted by Kevin Hart, Fabolous, DeSean Jackson and Melyssa Ford. The 18th Presented the Jamie Foxx album release party hosted by Vivica A. Foxx held at Vault.
The 19th was the

Kid Star Fest

held at the convention center featuring appearances by Meek Millz, Young Gunz, Terrence from 106 & Park, DJ Diamond Kutz, and DJ Damage. The event featured a mini-concert, clowns and magicians. The night of the 19th was the main event,

Diddy in December

. This black-tie gala was held at the Ritz Carlton hosted by Diddy his self. The event was deejayed by Jermaine Dupri and featured many celebrity attendants including Free, Brian McKnight and Atlanta Housewife Sheree.
Videos from Kid Star Fest are below.

Young Gunz