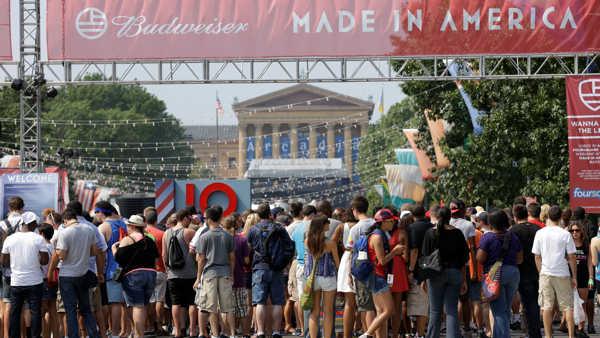 iSocialite
had the privilege of being apart of the first annual
Made in America Music Festival
in Philly, curated and headlined by
Jay-Z
. The Made in America festival had a great start Saturday! Highlights of the night included the opener act,
Gary Clark Jr
.,
MMG
,
Janelle Monae
,
D'Angelo
,
Jay Electronica
, and of course the headliner,
Jay-Z
. We got all the details, with pictures and videos!
The scene was colorful and energetic, as thousands of music fans shifted from the three stages on the Benjamin Franklin parkway to watch Skrillex, D'Angelo, Passion Pit, Janelle Monae, Calvin Harris and 10 other acts. Sunday's line-up includes Pearl Jam, Run DMC, Odd Future and Drake, who was in the crowd Saturday night.
When you looked at Saturday's main stage line-up, you probably wondered "Who is Gary Clark Jr." and why was he going to perform on the same stage that the Jigga man himself would later that night. But believe me, if you don't know who he is, remember the name. The soulful singer came out to do a sound check with his band and wave to the fans from stage. After a half an hour break to refresh himself, Clark Jr. took stage and left the crowd in awe. The 28 year old indie singer/guitarist started off his set with a tribute to Jimi Hendrix, an artist that he embodied on stage. With his six-stringed guitar, his sunglasses and his soulful rhythmic & blues, he played several fan favorites. He finished up his performance with an epic rendition of "

Bright Lights

". Gary Clark Jr. definitely made a name for himself in front of thousands today at Made In America Festival Day 1.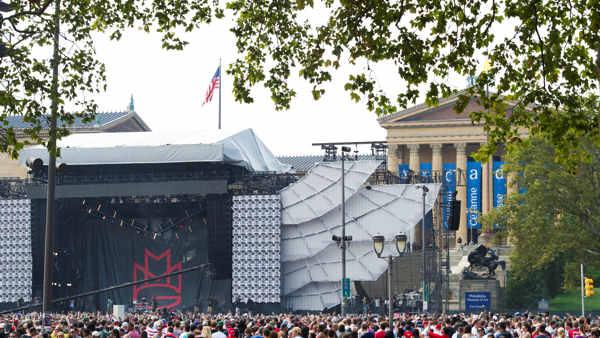 A good hour after Gary Clark Jr. took stage, the crowd began to thicken. People took to their feet to welcome Maybach Music Group to the stage. After some small technical difficulties, an energetic Wale took the stage. After realizing he came out to the wrong song, he looked back at the DJ and said to the crowd "I was actually suppose to come out to this song, so.. I'm going to come back out". After that, he performed recent hits such as "Slight

Work

" and "

Chain Music

".
Label mate, Meek Mill had the entire city behind him as he performed hits such as "

House

Party

" and "

Burn

", the turning point for all was when he performed "

I'm A Boss

" and the bawse himself, Rick Ross came out and performed a catalog of hits ranging from "

Hustlin

" "

Stay Schemin

" and "

3 Kings

", a song on his new LP "

God Forgives, I Don't

" that features Jay-Z, whom Ross paid homage to for giving him his first deal. Although he remained with his shirt on (surprisingly because it was extremely hot!), Rick Ross gave a hell of a rockstar performance.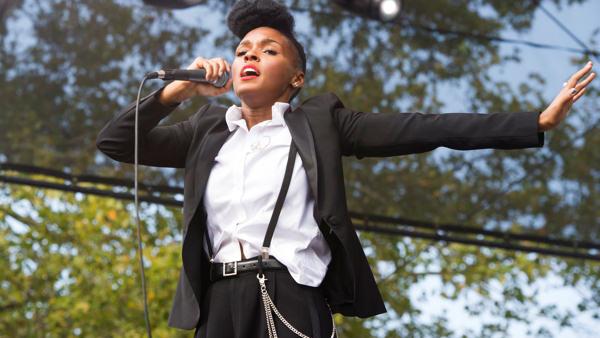 After MMG performed and you made your way over to the Liberty Stage as pint-size songstress Janelle Monae took the stage to give the crowd an entertaining and theatrical performance. Dressed as a futuristic waiter in black and white, Monae gave the crowd a solid 45 minutes of pure musical entertainment.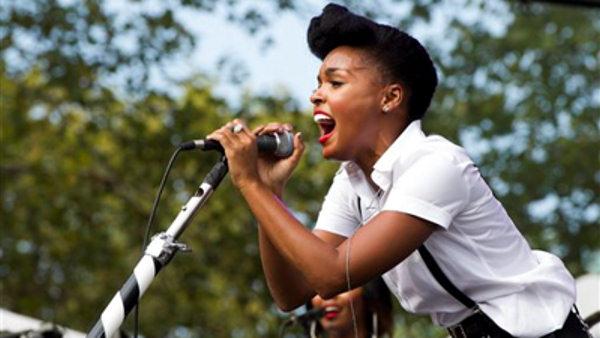 Even
Jay-Z
himself stood on the side stage as Monae went through her
The Archandriod
catalog, singing songs such as "
Cold War
", "
Locked Inside
", "
Faster
", and "
Tightrope
". The 27 year old songstress even belted out a rendition of the Jackson 5's hit "
I Want You Back
" and also did a tribute to
Jimi Hendrix
. She also performed her new song "
Electric Lady
" which will be on her next LP.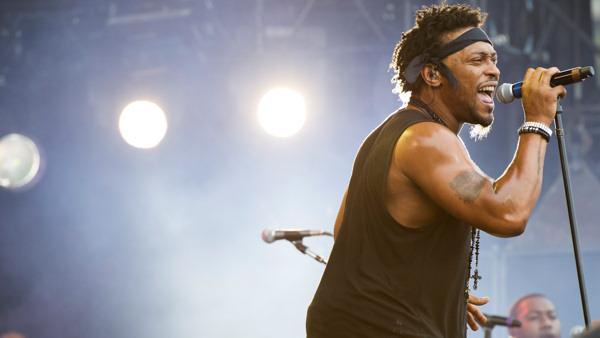 D' Angelo also was a performer during the first day of the Made in America Festival. His soulful, funky voice and sound was perfect for an event of this nature. He ran through a number of hits ranging from old, to new songs. This marks D' Angelo's first appearance since his comeback performance at The BET Awards. I think it's safe to say D' Angelo is back, ladies and gentlemen.
Another highlight of the night was, the recently added,
Jay Electronica
. Jay Elec is finally inching closer to dropping his debut album
Act II: Patents of Nobility
, and on Saturday (September 1) the Roc Nation artist made a rare public appearance, to perform at Jay-Z's Made in America festival. Judging by the fact that he had to fight his way out of the crowd after the set, it's clear that his fanbase is still as strong as ever.
During the final minutes of his performance, the New Orleans native jumped into the crowd to get better acquainted with fans. When he emerged, he explained that he actually hit up Jay-Z about performing at the Philadelphia festival. "Actually I sent him an email saying, 'You didn't ask me to perform at Made in America," Elect told MTV News, laughing at his boss' reply. "He's like, ' Ohh, you still perform? Ha.' You know. He always has jokes like that."
Jay Electronica has been largely absent from the spotlight in recent months, making fans question whether or not they would ever see his Roc Nation album materialize, but this performance was part of the process. And let me just so, we couldn't be more excited for this album to drop! He also just recently released the tracklist, giving us more hope that we will see the project soon.
"It's Jay's festival and it's Philly at the same time, it's a good way to get my feet back wet," he said. "I've been missing from the stage for a long time. Its a good way to come back." His set for the night included "
Abracadabra
," "
The Ghost of Christopher Wallace
," "
Eternal Sunshine
," and "
Exhibit C
" which were punctuated by shout outs to Philly, some political commentary and plenty of acapella verses. He thanked Philly for their support when his hometown New Orleans was devastated by Hurricane Katrina and in the same breath accused the government of destroying the levees and having a hand in the 9/11 attacks. "The government knocked down the towers," he yelled. Talk about outspoken.
However bold his statements were, the crowd still continued to rock with him and they were likely more surprised by the last bombshell he dropped before he hopped off the stage. Jay Elect announced that his next single would feature Chris Brown, and that's all he would reveal for now.
I was actually extremely surprised (and happy) the show stuck to a strict schedule. At 9:30 PM on the dot,
Jay-Z
hit the stage.If you've never been to a Jay-Z concert before, you are MISSING OUT. Jay-Z makes and incredible entrance, and only matches that by giving the audience the absolute best time of their lives.
Before taking the stage, Jay ran up & down the steps of the Philadelphia Museum of Art, mimicking Rocky before he took the stage in front of nearly 50,000 people from all over the country, and probably the world. I'm sure that scene will be in the documentary Ron Howard is directing. As Hov hit the stage, the track "
Made In America
" played in the background ("Makes sense," I thought). The show was already off to an amazing start and Hov had yet to speak.
It's so easy for
Jay-Z
to connect with his fans; his music catalog has songs for any and everyone. Jay-Z is not only a rapper, but an icon and he definitely displayed that through his 90-minute set Saturday night at the "
Budweiser Made In America
" festival. Jay-Z's first song of the night was "
Public Service Announcement
".
That was followed with the night's first cameo: A pre-recorded video from the President Barack Obama. Obama urged the crowd to vote this fall. He also said Jay-Z's story is "what Made In America means" and added that he enjoys listening to the rapper's music on his iPod. Needless to say I love my President! And if you haven't registered to vote yet, please do so! It won't kill you. Obama needs another term in office to rectify the situations that our last president carelessly left us in... but back to the show!

Jay-Z
ran through his whole catalog, performing hits like "
99 Problems
," "
Dirt Off Your Shoulder
," "
Big Pimpin'
" and "
Empire State of Mind
." He called it "the first annual Made In America festival," which hopefully means we'll see another one next year?
Jay-Z
also got the crowd super excited by performing "
03' Bonnie & Clyde
" which features his wife and now the mother of his child,
Beyonce
.
Jay-Z
walked towards the back as if he was going to go grab her. Part of me feel likes he was going to, but she said no. Shortly after we saw her leave the show. It should also be noted that the song transitions were incredible!
Jay-Z also brought out his former protégés and Philadelphian's including
Freeway
,
Chris and Neff
of the
Young Gunz
, as well as
Memphis Bleek
.
Swizz Beatz
also made an appearance for "
On to the Next One
".
"
Since you were so good to me, Philly, I'm going to be good to you tonight
," Jay-Z said as he walked towards the back of the stage. I did not even put two and two together. Good = G.O.O.D Music. Duh. Rappers
Pusha T
and
Big Sean
hit the stage, and
Kanye West
along with
2 Chainz
followed, receiving an electrifying cheer from the crowd. They performed a medley of
G.O.O.D Music
hits, such as "
I Don't Like (Remix)
", "
Mercy
," "
Dance
" and "
Can't Tell Me Nothing
." They had the crowd on lock the whole time!
Common
also came out to perform, as well.
The festival is being film as a documentary and will be directed by Ron Howard. Proceeds from the ticketed event will benefit United Way chapters.
As Kanye was leaving the stage, Jay-Z stopped him and said "Wait a second Ye, where you going?" "

I think we have time for one more

," he said. After no response he repeated his self and the crowd roared loader with anticipation. We all knew what was about to happen! The Hit-Boy produced beat, for "

N*ggas in Paris

" starting ringing through downtown Philadelphia and even those hanging out outside of the concert couldn't help but to jump up in down. Then fireworks blasted to complete Day 1 of the Made in America Music Festival.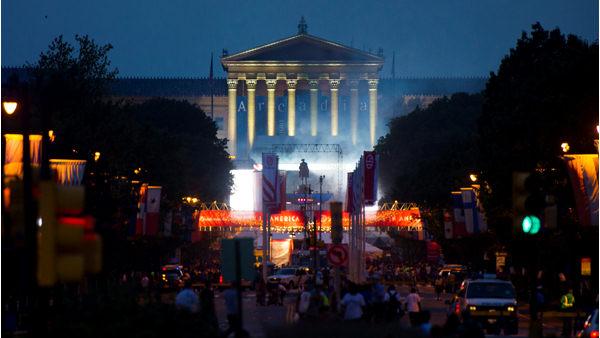 Photos by Charles Sykes x Pete Monsanto.
Props to
Yardie
for the live stream vids.
Special thanks to Ayana Howard for contributing to the story! You're a life saver.
Be sure to check out our Day 2 Recap!
Follow @jaszwhaley
Follow @iSocialite_