JHADHFAJHUFGUHBVHBAUIHFIAUHFIHFIL!!! THESE FEATURES!!!
I'm DECEASED!

EMPRESS JOJO

,

Queen Miley

,

JT

,

Daft Punk

,

A. Keys

?!? I don't even have to listen to the tracks I'm sold already.

Pharrell

is having an AMAZING year. What with movie placements, Grammy nods and wins, and Academy nods? He's having a

Mariah Carey

circa 2005 type year and he better run with it.

Pharrell

himself describes

"G I R L"

as "happy and urgent" and he has all the reason in the world to be so. Hell, I'm happy just because. You have got to be a miserable soul if the song

"

Happy"

doesn't at the very

least

make you smile. At any rate,

Pharrell

is proving he's a force to be reckoned with and he doesn't fit into any one box. He appeals to the MASSES...the definition of a crossover artist. Triple threat like shit.
Check out this track by track review of
"G I R L"
:
Hans Zimmer
, legendary composer and
Pharrell's
hero, was tapped to arrange the strings for
"G I R L"
and I can see why IMMEDIATELY. The 30 piece orchestra that introduces the album gives a cinematic interpretation to the track.
"Marilyn Monroe"
, and other icons such as Cleopatra and Joan of Arc are mentioned in the chorus, yet they can't hold a candle to
Pharrell's
chick. Cute. The song, which transforms into a pseudo-Thriller dance track, ends with a replica of
Zimmer's
score for "Inception." Dare to be different and shit.
2. "
Brand New"

(ft.

Justin Timberlake

)
Drums, guns, and guitars...what could be better?!? I know. Throw in a battle of the falsettos between
Pharrell
and
JT
. I don't know whether to be amazed or to praise the homosexual gawds. I'm not calling anyone ghey...just getting a slight "queen" vibe and whatnot. This track should definitely be a single though...all innuendos aside. Question: Am I the only one who wanted to throw on some roller skates?
You've got me feelin' brand new / like the tag's still on me.
Sooo
"Hunter"
is apparently written from a woman's POV...and being that I just alluded to him being a queen...anywho. The track starts out with a '70s inspired call-and-response guitar riff which sounds AMAZING. And apparently this woman is wanton, horny, and chasing a man. I guess she's a woman of the millennium.
Hey baby, my love is callin' / Hey baby, my sex is callin'.
"Gush"
most definitely gives me old school
Neptunes'
tease. The title is a play off the duo's most famous
Jay Z
collabo,
"I Just Wanna Love U (Give it 2 Me)"
with lyrics
Give me that sweet, that nasty, that gushy stuff.
This track is the most sexual with
Pharrell
asking you to
take off your halo and wings
so he can
light that ass on fire
and
leave those panties in flames.
Way to put an end to those queen rumors. Kudos. Well, at least I hope he's talking about a woman...
Everyone has heard
"Happy"
from the
"Despicable Me 2"
soundtrack.
Pharrell
had Lupita Nyong'o, Amy Adams, and Meryl Streep jooking to this at the Oscars. Enough said.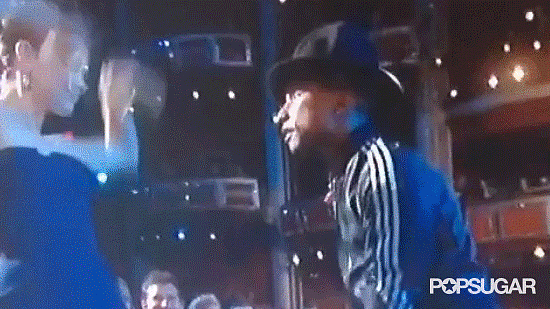 6. "Come Get It Bae"

(ft.

Miley Cyrus

)
First off,
QUEEN Miley
is EVERYTHING. IDC IDC IDC. Whether she's being ratchet or singing I'm here for every bit of it!
You wanna ride it, my motorcycle / You got a license, well you got a right to / wanna pop a wheelie, don't try too hard to, cuz girl I like you.
And that's about all she wrote.
7. "Gust of Wind"

(ft.

Daft Punk

)
I think Billboard's review of
"Gust of Wind"
hit the nail on the head. I actually LOL'd.
This song, called

"Gust of Wind,"

features a rush of

Zimmer

strings that sounds like, well, a gust of wind.

Daft Punk

are credited as contributing vocals, but the creepy computerized hook sounds more like

Pharrell

himself climbed into one of the robot helmets.
IDK if its a good or bad thing that
Pharrell
is such a chameleon. But we barely accept him and those gawd awful ass hats. He better not start wearing helmets. That's where I draw the line.
8. "Lost Queen"
The beat to this track is dope AF. I love the drums and the cult-esque chanting in the background. I can't be sure but I'm fairly certain there are some subliminal messages in those chants. I don't even know what's going on in the track...I did, however, hear him elude to "magic" tricks. Again, no accusations. I'm just being observant.
Hidden Track: "Freq"

(

ft.

JoJo

)
JO MOTHEREFFIN' JO
!!! KLANLFDAJJKLDNVURHFIUSHKJDAK!!!
How can a song with her featured not be everything in life??? This is, without a doubt, the
BEST
track on the album. First the release from Azkaban aka Blackground Records, the Valentine's Day SLAYYYAGE, and now this feature with
Pharrell
? Yep. This bitch is truly a witch. We already know
Pharrell's
40 year old ass has a Sorcerer's stone and
JoJo's
got to have a few horcruxes because she should be musically deceased by now. I'm happy for her though. She and
Pharrell
are both having one helluva year!
I'd rather be a freak than not be unique, the individuality makes life better.
That you are, that you are...
9. "I Know Who You Are"

(ft.

Alicia Keys

)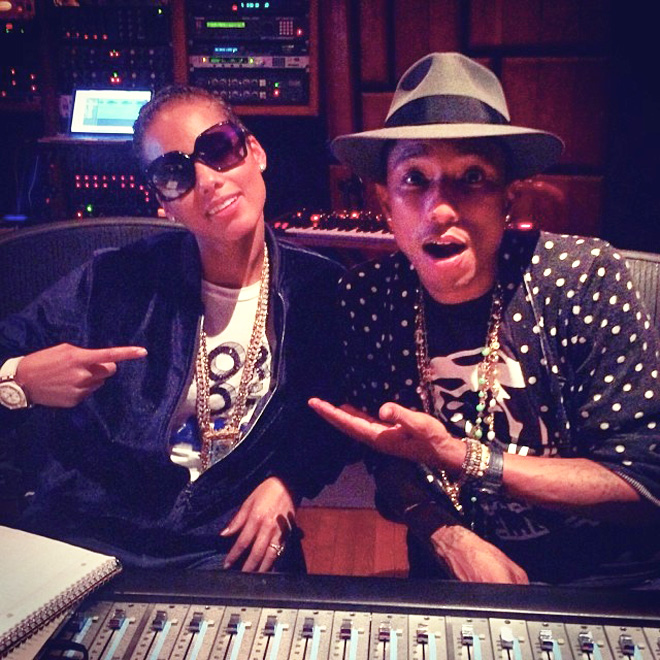 This song has an old school Caribbean flavor. I'm not Jamaican nor am I a 70s baby so ska isn't really my thing but to each his own. Luckily,
A.Keys
is
BRILLIANT
. Her vocals that she pushed out with the placenta during labor have grown back. Thankfully. I'm sick of all these struggling mothers with their worn out vocals.
I know who you are and I know what you're feeling (x2).
Yeah. Relief.
So I stand corrected. This being yet another ode to women I'm gonna have to go with the assumption that
Pharrell
loves women -- he's just overtly metrosexual. Cool. It seems as though women (and sex) were the inspiration behind this entire project so congratulations women. We inspired someone without the nuances of twerking or being a video vixen. Sure he wants sex but at least he's not calling us bitches and hoes to get it.
All in all, the album is great! The features alone are enough to warrant purchasing the album. In fact, they make the album.
"G I R L"
is available online and in stores NOW.
Pharrell
has everything going for him right about now so don't buy this album at your own risk...they're watching...
- Natasha Marie
Follow @iamnatashamarie
Follow @iSocialite